Celebrating Cleveland at the Inaugural Generation NEXT Awards
Last week we had the pleasure of attending the Generation NEXT Awards for Engage! Cleveland. Many local companies, organizations, and individuals came together to celebrate each other and the impact they're making in Cleveland communities and employment.
Not only was the event an incredible celebration, but it is also a great event to network with other young professionals and other companies. At this inaugural event, we had the opportunity to celebrate Code3 as the Company of the Year and my personal achievement as Young Professional of the Year. I also ran into a few past coworkers who are now at other companies! It's wonderful to see their growth and their involvement Engage! Cleveland continues.
Before working at Code3, I was a part of another organization that was involved with Engage! Cleveland. When I came to Code3, I was so excited to hear about our partnership and Employer Membership – with that in mind, I volunteered to be the Leadership Council representative for Code3.
Working with Engage! Cleveland has been a true highlight of my career. Whether it's enjoying cheese & wine during Young Professionals Week or attending Next Generation of Women (a conference about women's challenges in their professional careers), there's truly an event for everyone!
As a Cleveland enthusiast, I was thrilled to be recognized as the Young Professional of the Year! I was born and raised in Cleveland, OH, and over the years have seen what this city has to offer for everyone. Cleveland is a great place to live and build your career. I am honored that I was chosen for this award as an advocate of the city and someone who is always trying to help others further their career. Sharing this win with Code3 is truly special to me. Code3 is a company that invests in its people and we felt our win for Company of the Year was well earned. I'm proud of our culture and the way the company supports its employees.
Engage! Cleveland's mission is to attract, engage and retain young professionals in Northeast Ohio and I truly believe in what they are doing for the city and other professionals.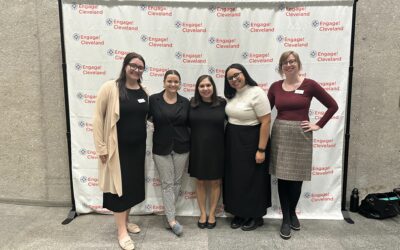 Coming to Fruition: Engage! Cleveland Staff Celebrates Inaugural DE&I Conference Written by...
read more