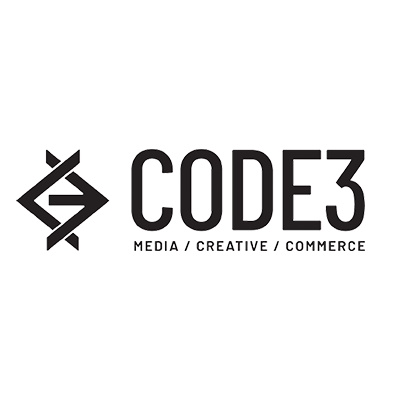 code3.com
3615 Superior Ave
Suite 4402A
Cleveland, OH 44114
Dan Hartman
dan@code3.com
Company Type: Public
Number of Employees: 221
% of Young Professional Employees: 80%
How would you describe your culture?
Code3 has an innovative, inclusive, and collaborative culture.
How would you describe your mission and what you do?
Code3 helps leading brands find, reach, and engage customers, anywhere in the world, on every digital platform. In a marketplace that never stops changing, our capabilities keep evolving. We started life as a specialist social media buying agency. Then we added media planning, data and analytics, creative, production, and most recently, expertise on the commerce platforms.
Health Insurance

Dental Insurance

Vision Insurance

Flexible Schedule

Paid Family Leave

Corporate Discounts

Office Closed for Holidays

Mother's Room

Remote Work Options
Retirement Plan

Educational Assistance

Bonuses/Raises

Paid Time Off

Company Events

Dog-Friendly Office

Employee Resource Groups

Diversity & Inclusion Resources and/or Training
What types of positions do you typically hire young professionals for?
Typically we hire young professionals for marketing related roles. 
What qualities do you look for in a candidate?
We look for candidates who are passionate about their work, outgoing, and results driven. 
Do you have an internship program?
The Associate Development Program for recent graduates to learn all about different aspects of the organization during a 10-12 week series in the summer that can lead to full-time employment offers. We give our interns real work that will make real impact for out clients.  We also offer semester-long intern programs in all aspects of our business. All internships are paid hourly. 
Do you have any internal Young Professional groups?
What types of employee training/development do you offer to help Young Professionals make an impact and grow?
We encourage our staff to go through what we call C3 University, where you will have training sessions, L&D, and create plans for growth in the company. We also offer education reimbursements after 1 year of employment.
How do you help your employees get involved in the community (i.e. volunteer program, service days, etc.)?
We have a Giving/Volunteer program that does quarterly giving initiatives and usually quarterly in-person volunteer events. In the past, we've partnered with Cuyahoga County Animal Shelter, Cuyahoga Valley National Park, Hunger Network of Greater Cleveland, etc. We've historically given to the Hunger Network of Greater Cleveland, Cuyahoga County Animal Shelter, and Women's Recovery Center.
What benefits do you offer to attract young professionals?
401(k) match with a generous pension plan, work from home flexibility, commitment to transparent DE&I practices, recharge days, company closure between Christmas and New Year's, stipend for continued education, C3 University, masterclass subscription