Smart Business Network is currently accepting nominations for the 2023 Smart Women Awards!

On July 20, 2023, the Smart Women Breakfast and Awards will recognize the achievements of leading businesswomen and effective women's programs. The conference will also dive into discussing the issues women face in the workplace.
Nominations will be accepted through Friday, May 19, 2023.
ABOUT THE SMART WOMEN AWARDS
CATEGORIES
Progressive Woman Award: Recognizes female executives or managers who have risen through the ranks in their career and overcome significant challenges along the way.
Progressive Organization Award: Recognizes organizations that support or promote women-based initiatives develop specific programs that provide opportunities for advancement, or create family-friendly workplaces.
Progressive Entrepreneur Award: Recognizes female entrepreneurs who have either founded or co-founded a for-profit business that has achieved substantial growth within the last two years due to an innovative product or service.
ELIGIBILITY
Any individual employed by a for-profit or nonprofit organization with a physical presence within the Northeast Ohio region is eligible for an award.
For more information, please contact Suzi Linn at slinn@sbnonline.com
Please click here to find the nomination form.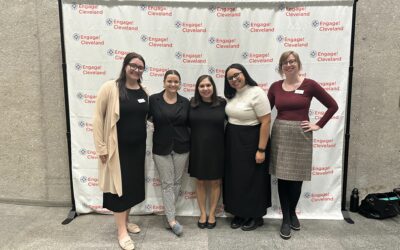 Coming to Fruition: Engage! Cleveland Staff Celebrates Inaugural DE&I Conference Written by...
read more