Employer Member Spotlight: Taft Law
Engage! Cleveland is proud to have over 115 employer members who support our cause of making Cleveland a lasting home for the next generation. Please join us in welcoming one of our newest members by reading about them below.
Taft. It is one simple word which is the iconic name of an historic political and legal family and represents over 135 years as a venerable law firm. But, today they are a lot more than a firm with an outstanding heritage. Taft is a modern, progressive firm which is the trusted advisor to many successful clients and an employer of choice in each of their major markets.
To be the employer of choice in each of their markets, they maintain a highly respectful, transparent workplace culture which fosters creativity, teamwork, inclusion and diversity, and service to their clients and communities. They couple that culture with a play to win, client-first mindset where they reward lawyers who listen to and understand their clients' goals and then think creatively and aggressively to advance those goals and the client's ultimate success.
Deeply embedded in the culture of Taft is the significant investment they make in the communities where they live and practice. Taft lawyers contribute substantial time and resources to many charitable and community organizations and activities. They also do meaningful pro bono work for those in need. As an essential part of their culture, Taft celebrates and provides time and dollars to Taft professionals who support charities, give back to their communities, or do pro bono work. Why? Because Taft and its professionals are fortunate to have the means to help others with fewer resources. Giving back is a concept which is part of the fabric of who they are, and they want to make a meaningful and positive difference in their communities.
Finally, Taft prides itself on being different from other firms. Those differences primarily exist in Taft's outstanding workplace culture, its obsessive client-first mentality and service, and its approach to leadership. They believe they are the only firm of their size and scale which does not have a physical headquarters or "mothership." To the contrary, they take pride in having an empowered, geographically dispersed management team composed of leaders from every one of their major markets and practice groups. Taft has a servant leadership model, and they work collaboratively to deliver the full breadth of the Taft toolbox throughout the Taft footprint to obtain the very best and most efficient results for all of their clients.
At Taft, they look forward to delivering results for their clients, communities and each other. After 135 years, their journey has just begun.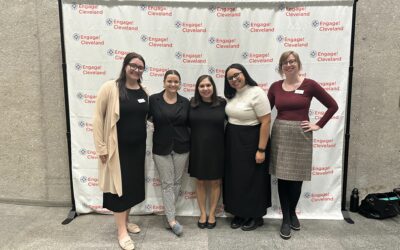 Coming to Fruition: Engage! Cleveland Staff Celebrates Inaugural DE&I Conference Written by...
read more