Engage! launches third women's cohort and first co-ed cohort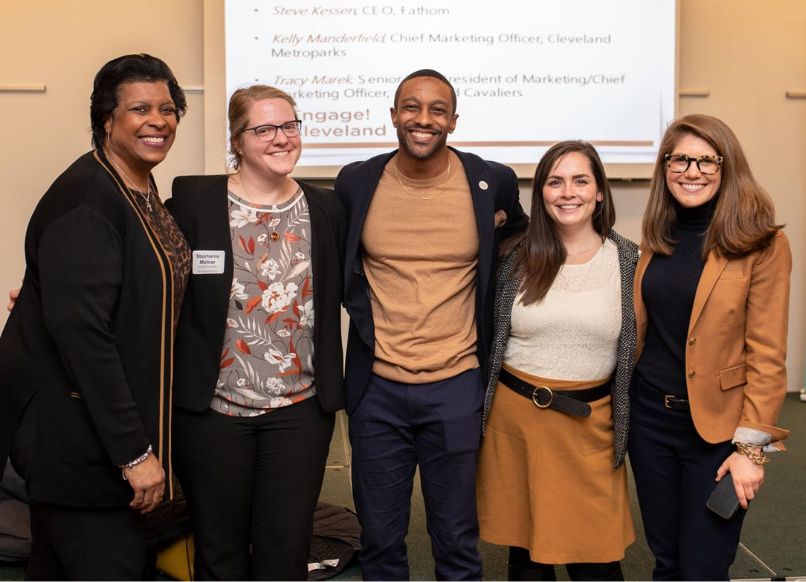 FOR IMMEDIATE RELEASE
Engage! Cleveland launches the third cohort of the women's mentorship program and the first co-ed cohort with 36 mentees and 10 mentors
CLEVELAND, OH — FOR IMMEDIATE RELEASE — January 5, 2022 — Engage! Cleveland, a community engagement organization focused on attracting, engaging, and retaining talent to the region, has announced the 36 individuals selected for the third cohort of its Women's Mentorship Program and the first cohort of its Co-ed Mentorship Program. After receiving feedback from the program's previous mentees, the young professional community, and Engage! Cleveland's Leadership Council, Engage! Cleveland expanded the program to include both a Women's Cohort and Co-ed Cohort option. The six-month program will commence in mid-January 2022, matching 36 Greater Cleveland young professionals with 10 successful community leaders.
"Engage! Cleveland is thrilled to have selected such an exceptional group of talented mentees and mentors in Greater Cleveland for our Mentorship Programs," said Ashley Basile Oeken, President of Engage! Cleveland. "We look forward to watching this group grow and learn in their personal, professional, and civic lives."
A total of 49 Greater Cleveland young professionals applied for the program. The following 36 individuals have been selected:
Amber Andrews, Donor Stewardship and Events Manager, John Carroll University
Adrian Belli, Clinical Support Engineer, MIM Software
Samantha Benedict, Project Manager, Retail, Oatey
Venechia Berry, Human Resource Manager, ScottCare Corp
Tyisha Blade, Producer, Gray Media Group
Jessica Bresnahan, Digital Marketing Specialist, National Safety Apparel
Renee Copsey, Executive Administrator, Boyd Watterson Asset Management, LLC
Dani Elliott, Program Director, Girls on the Run Northeast Ohio
Bailey Fischer, Manager, Training, Fund that Flip
Daniela Goncalves, Integrated Marketing Manager, Enverus
Sophie Hall, Talent Management Specialist (Diversity & Engagement), Swagelok
Ashley Hess, Customer Service Team Lead – NM, MIM Software, Inc.
Lacey Hood, Physician Assistant, Cleveland Clinic
Courtney Hutchinson, Community Arts Program Coordinator, MetroHealth
Xzya Jordan, Compliance Analyst, Elixir Solution
Emily Martin, Manager, Underwriting, Fund that Flip
Walker Blue Miller, Event Coordinator, Fund that Flip
Abby McNutt, Manager, Recruiting, Fund that Flip
Sonya Nudel, Senior Manager, Federal and Business Operations, Park Place Technologies
Madison Papell, Business Manager, Shaker Rocks
Lindsey Powers, Manager of Membership Recruitment, Girl Scouts of North East Ohio
Kayla Pretzer, Account Executive, Dix & Eaton
Jill Ross, Manager, Events, Fund that Flip
Carli Rubery, Clinical Support Engineer, MIM Software
Katie Scherry, Marketing & Communications Associate, Recovery Resources
Valerie Schmidt, Accounts Payable/Treasury Analyst II, Vestolit
Valerie Schnek, Sr. Trade Compliance Analyst, Lincoln Electric
Madison Simpkins, Media Buyer/ Planner, CMT Consulting Ltd.
Sofia Stamaton, Corporate Event Planner, Fund that Flip
Celia Stonko, StaffMatrix Program Manager, Staffing Solutions Enterprises
Melissa Vargo, Clinical Research Project Manager, University Hospitals of Cleveland
Crystal Watkins, Assistant Vice President – Branch Manager, Beal Bank
Carleton Whitemore, Business Development Manager, MIM Software
Jessica Whittaker, Director of Visitor Services, Cleveland Museum of Art
Ray Yambor, People Operations, Recruiter, Fund that Flip
Johnna Zaccari, Marketing Administrator, Sherwin- Williams
A total of 20 Greater Cleveland leaders applied for the program. The following 10 community leaders have been selected as mentors:
Jennifer Chung, IT Service Operations Lead, Vitamix
Matthew Fieldman, Executive Director, America Works
Steve Fritsch, Vice President, Marketing & Engagement, Team NEO
Jane Haag, Partner, CircleKey, LLC
Patti Isom, HR Business Partner, Veritas Prime
Laura McCann, Human Resource Director, Materion Corporation
Becky Morgan, President, Fulcrum Consulting Works Inc
Carol Treska, Partner, Pease CPAs
Lindsay Walker Executive Director, Alzheimer's Association
Kerri Yarbrough, Human Resources Consultant, The Aura Initiative
To learn more about Engage! Cleveland or new programs, jobs, and civic opportunities for young professionals in Cleveland, please visit engagecleveland.org and follow us on Facebook, Instagram, LinkedIn, and Twitter.
###
www.engagecleveland.org | 2020 Center Street | Cleveland, OH 44113
About Engage! Cleveland
Engage! Cleveland is a community engagement organization for young professionals and business/community leaders who are passionate about making Cleveland a lasting home for the next generation. Our goal is to attract, engage and retain young, diverse talent to Greater Cleveland by connecting young professionals to people, jobs, organizations, and events. You can learn more at www.engagecleveland.org.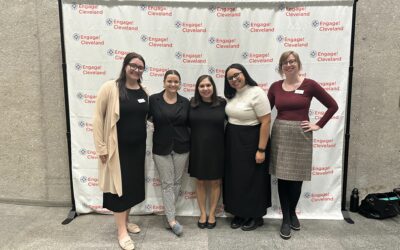 Coming to Fruition: Engage! Cleveland Staff Celebrates Inaugural DE&I Conference Written by...
read more