Inaugural DE&I Conference To Bring Over 200 Clevelanders Together For Change
FOR IMMEDIATE RELEASE
Cleveland, Ohio —November 6, 2023 –  FOR IMMEDIATE RELEASE  —  Engage! Cleveland was excited to launch their inaugural Diversity, Equity, and Inclusion Conference, a groundbreaking event which aimed to foster meaningful discussions, share best practices, and drive actionable strategies to advance diversity, equity, and inclusion in all sectors. Within two weeks of announcing this event, in-person tickets sold out, which would fill a room of 165, and a virtual ticket option was offered. 
This landmark event took place on Wednesday, October 25, 2023  at The Cleveland Museum of Art and brought together over 200 thought leaders, experts, young professionals, and advocates, both virtual and in-person, to engage in a comprehensive dialogue on the vital importance of diversity and inclusion in today's rapidly evolving world. 86 different Cleveland companies were represented in the audience including but limited to, Cleveland Cavaliers, Cleveland Clinic, Cleveland Foundation, The J.M. Smucker Company, Girl Scouts of Northeast Ohio, and Sherwin Williams. Industries represented were Healthcare, Media, Manufacturing, Education, Government, Accounting, Real Estate Development, and more!
The conference featured 14 diverse individuals in either keynote or panel discussions designed to explore the multifaceted dimensions of diversity and its impact on organizations, communities, and society at large. Among the lineup was: 
Alan K. Nevel: Senior Vice President, Chief Equity and Community Impact Officer for the MetroHealth System

Kimberly Chapmon-Wynne: Senior Director of Race, Diversity, Equity, and Inclusion at United Way of Greater Cleveland
On the agenda, attendees were set  to gain valuable insights into fostering inclusive workplaces, addressing systemic barriers, promoting equitable opportunities, and developing strategies for creating a more just and inclusive society.
"What an incredible opportunity to come together with other like-minded young professionals to dig even further into the importance of DEIB in the workplace. Thank you Engage! Cleveland – I look forward to coming back next year!" said 2023 Conference Attendee. 
The conference concluded with a VIP behind the scenes tour of the art museum focusing on diversity artists. Attendees were escorted by curators, docents, and art educators who work at the museum and provided exclusive content related to the pieces including the history of the piece, social and historical influences, and facts on the artists. .
The conference aimed to provide attendees with actionable takeaways, networking opportunities, and a renewed commitment to advancing diversity, equity, and inclusion both personally and professionally.
"I left the Engage! Cleveland DEI Conference reinvigorated. There were many ideas I wanted to take back to my organization and was happy that the speakers represented peers from NE Ohio," said the 2023 Conference Attendee.
The inaugural Diversity, Equity, and Inclusion Conference was sponsored by Boler College of Business at John Carroll University, Oatey Co, CBIZ, Oberlin College, Cohen & Co., Union Home Mortgage, National Interstate Insurance, Mars Electric, Taft Law, and Wellspring Financial Advisors.
###
www.engagecleveland.org | 2020 Center Street | Cleveland, OH 44113
About Engage! Cleveland
Engage! Cleveland is a community engagement organization for young professionals and business/community leaders who are passionate about making Cleveland a lasting home for the next generation. Our goal is to attract, engage and retain young, diverse talent to Greater Cleveland by connecting young professionals to people, jobs, organizations, and events. You can learn more at www.engagecleveland.org.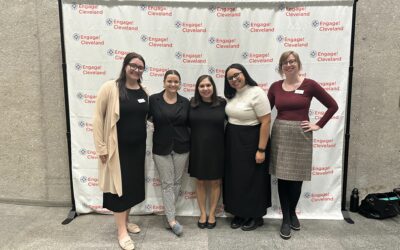 Coming to Fruition: Engage! Cleveland Staff Celebrates Inaugural DE&I Conference Written by...
read more