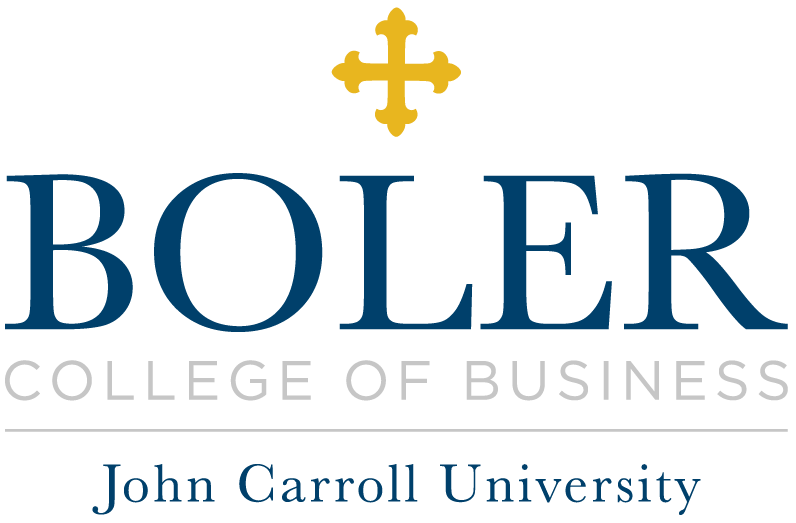 boler.jcu.edu
1 John Carroll Boulevard
University Heights, Oh 44118
Dr. Ronald Mickler Jr.
rmickler@jcu.edu
How would you describe your culture?
John Carroll University is a private, coeducational, Jesuit Catholic university, founded in 1886, dedicated to developing women and men with the knowledge and character to lead and to serve. The University is located in University Heights, Ohio, an attractive residential suburb 10 miles east of downtown Cleveland. The dedicated commitment to our students has helped distinguish JCU as an outstanding place to work for our employees and an exemplary place to learn for our students. Special thanks to all John Carroll University faculty and staff for all they do, every day, to make John Carroll such an engaging and collaborative community of dedicated professionals
How would describe you mission and what you do?
The Boler College of Business at John Carroll University graduates students who live inspired lives. They lead with an ethical foundation, excel in service with and for others, and exemplify professional excellence, a strong work ethic, and superior decision-making.
Health Insurance

Dental Insurance

Vision Insurance

Flexible Schedule

Paid Family Leave

Corporate Discounts

Office Closed for Holidays

Mother's Room

Remote Work Options
Retirement Plan

Health & Wellness Stipend

Educational Assistance

Sponsorship & Mentoring

Paid Time Off

Company Events

Employee Resource Groups

Diversity & Inclusion Resources and/or Training
Do you have an internship program?
Yes, we do have an internship program. As you set out to master the technical sides of disciplines such as accounting, finance, human resources and marketing, the Boler team keeps an eye on other important aspects of your growth as a business professional.
It's common that you would begin college with little or no sense of how personal qualities — self-awareness, integrity and habits of communication — predict future career and life success. Recruiters and senior managers report, in survey after survey, that such "soft skills" matter as much if not more than grades, technical skills, awards and other resume highlights.
The Boler College of Business Professional Development (BPD) Program will prepare you to explore and one day enter the world of work with poise, finesse and confidence.
What types of employee training/development do you offer to help Young Professionals make an impact and grow?
At Boler, we recognize that the decision to pursue a graduate degree often involves both intrinsic and extrinsic goals and motivations. Data continues to show that a graduate business degree promises a solid monetary return on your investment. A graduate business degree from Boler also promises a solid return on learning to live an inspired life and learning to inspire others.
Boler and John Carroll University are accredited by AACSB. Less than 6% of the world's schools offering business degree programs hold AACSB business accreditation.
Less than 2% of the world's schools offering business degree programs hold supplemental AACSB accounting accreditation. Boler and John Carroll are proud to be among the top business schools in the world with both of these distinctive achievements.
Whether you are a recent college graduate or working professional, our graduate degree programs will develop your skills in leadership, strategy, innovation, problem-solving and decision-making across business disciplines. You will learn to approach all aspects of business in an inclusive environment with a 360-degree worldview that will inspire you to create just and sustainable value for all.
Choose the program that's right for you and set yourself on a journey to become an inspired business leader. Get started today!
The Boler Online MBA is accessible from anywhere in the United States. The program is designed with the same rigor, curriculum and benefits of other Boler MBA programs and with the additional flexibility of being completely online to eliminate location restrictions. Grounded in socially responsible leadership and providing rigorous analysis to solve complex business issues, the degree can be completed in 1-3 years and requires a total of 33-45 credit hours, dependent upon the number of foundational business courses completed at the undergraduate level.
The Emerging Leader MBA program prepares recent college graduates, early career professionals and those with little business background to lead in a rapidly changing workplace. Students will learn the skills to adapt and to inspire others for success economically, environmentally and socially. There is no requirement of professional work experience. The program is uniquely structured to allow students to finish the degree in 12 months (accelerated), dependent on the number of business foundational classes taken at the undergraduate level; however, students may take up to 3 years to complete the degree if attending part-time. Regardless of your undergraduate major, you may be eligible for the Emerging Leader MBA program.
The Professional MBA is designed to accelerate the career progression of those currently in the workforce, helping them to move into positions of increasing leadership and responsibility. The cohort-based approach allows students to learn with like-minded peers, developing strong relationships as they move through live projects, team-taught courses, a leadership sequence and gain exposure to leading industry executives. Non-business undergraduate degrees may require completion of up to 12 credit hours of foundational business prerequisites to be adequately prepared for the program.
The Master of Science in Innovation and Entrepreneurship was designed by entrepreneurs and innovators to train future entrepreneurs and innovators for work within an organization or in their own endeavors. Students traverse an immersive, experiential learning path that includes creativity, failure, leadership, ethics, business modeling and forecasting. The program requires 30-39 credit hours, dependent on the number of foundational courses that may have been completed as an undergraduate.
How do you help your employees get involved in the community (i.e. volunteer program, service days, etc.)?
As a Jesuit business school deeply rooted in our region's history and prosperity, the Boler College of Business convenes business leaders, faculty and students around the challenges of how to help Northeast Ohio's people, businesses and communities engage with, and shape the future.
Through the work of our Centers of Excellence and their initiatives, we seek to prepare students to be transformational business leaders, and equip Cleveland area companies to transform themselves and their markets. The centers support faculty research, teaching excellence, curricular development, and the intersection of research and business practice.
The Edward M. Muldoon Center for Entrepreneurship gathers energy and resources for students and faculty with a strong entrepreneurial drive, and supports two vital community business organizations, the Entrepreneurship Association and the Muldoon Partners.

The Center for Leadership Skills Development provides leadership development resources to the students of John Carroll University.

The Ginn Institute for Corporate Social Responsibility connects students with the Greater Cleveland community through internship opportunities and on-campus speaking engagements regarding how businesses contribute to the quality of life.

The Edward J. and Louise E. Mellen Executive Speaker Series hosts an annual appearance by an Executive Officer to provide insight about the strategic focus of their firms and the challenges they face.