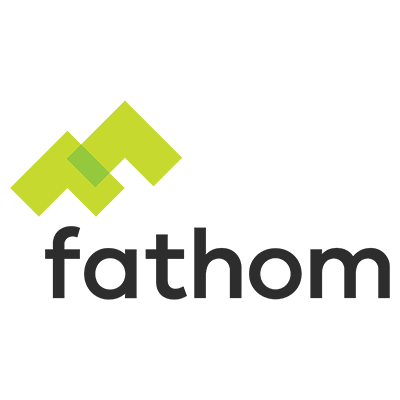 fathomdelivers.com
2020 Center Street
Cleveland, OH 44113
Chrissy Siba
csiba@fathomdelivers.com
216-256-7698
Company Type: Private
Number of Employees: 91

% of Young Professional Employees: 84 of Fathomers are between the ages of 21-40
How would you describe your culture?
We believe we exist to better the lives of Fathomers and our clients. It's about you. It's about us. It's about what we do together.
How would you describe your mission and what you do?
As digital marketing specialists, we draw on our deep roots in digital to bring our clients a unique skillset for all digital needs—from SEO to marketing automation, social media to paid search and display. Plus, the content, creative, analytics, and technology support required to amplify success.
Health Insurance

Dental Insurance

Vision Insurance

Flexible Schedule

Paid Family Leave

Office Closed for Holidays

Mother's Room
Remote Work Options

Retirement Plan

Health & Wellness Stipend

Bonuses/Raises

Paid Time Off

Company Events

Diversity & Inclusion Resources
What types of positions do you typically hire young professionals for?
Fathom is always looking for marketers interested in SEO, paid search and display, social media, marketing automation and email, content and creative, analytics and technology, and client services. We also welcome candidates looking for opportunities in people operations, finance, and business support.
What qualities do you look for in a candidate?
As a team of purpose-driven individuals, Fathomers believe and consistently demonstrate our core values.
Everyone a leader
We believe everyone at Fathom is a leader. Regardless of title or role, we serve others first, take initiative, and operate as creators.
Advocate always
We believe everyone at Fathom is a client advocate. As trusted advisors, we cultivate the empathy, expertise, and courage needed to truly act in our clients' best interest.
Make order from chaos
We believe everyone at Fathom is a team player. As dependable teammates, we create solutions and deliver results consistently. Amid chaos, we embrace and drive change for the better.
Raise the bar
We believe in raising the bar for our clients and for ourselves. Never complacent. Progress is built on learning day by day. We understand and then challenge the status quo, striving for excellence in all that we do.
Do you have an internship program?
We encourage current and recent college graduates to submit applications for internship and associate program opportunities. If you don't see a specific position posted on our website, please reach out to us. We are always happy to engage with job hunters open to chatting about additional opportunities for college credit, learning about our industry, or simply meeting and connecting with fellow marketers.
Do you have any internal Young Professional groups?
What types of employee training/development do you offer to help Young Professionals make an impact and grow?
Fathom offers learning grants encouraging personal and professional development opportunities through conferences, classes, webinars, certifications, etc.
How do you help your employees get involved in the community (i.e. volunteer program, service days, etc.)?
We offer a donation match program that allows Fathomers to choose their favorite charity or non-profit organization to support, and Fathom will match the donation.