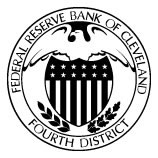 1455 E. 6th St.
Cleveland, OH 44114
Company Type:
Nonprofit
Number of Employees: 1,000+
How would you describe your culture?
We're accountable for our actions, we deliver on our commitments, and we have the highest quality standards. We embrace diversity and inclusion in all their forms. We innovate and strive for continuous improvement. We're honest, respectful, and ethical in everything we do, and we serve the public and strive to earn its trust and confidence every day. 
How would you describe your mission and what you do?
The Federal Reserve Bank of Cleveland serves the Fourth District, comprising Ohio, western Pennsylvania, eastern Kentucky, and the northern panhandle of West Virginia.
As the US central bank, the Federal Reserve formulates and implements monetary policy—the actions were undertaken by a central bank to influence the availability and cost of money and credit to help promote national economic goals—provides payment services to financial institutions and the US government, and supervises banking and other financial institutions.
What types of positions do you typically hire young professionals for?
Cyber Security, Audit, Surveillance, IT, Research Analysts.
What qualities do you look for in a candidate?
Driven, hard worker, ability to work independently but also part of a team, desire to grow a career, strong communications skills, analytical skills (position-specific), goal-oriented, passionate about the work and the company, flexible, open to change, asks questions.
Do you have an internship program?
Our intern program incorporates academic endeavors with hands-on work to provide an immersive experience, whether you're an undergrad, grad, or postgrad. As a student intern, you'll also have a professional mentor to help you make the most of your time at the Bank.
Do you have any internal Young Professional groups?
Our young professional's resource group's mission is to support young professionals in their early career journey by providing opportunities for engagement and development.
What types of employee training/development do you offer to help Young Professionals make an impact and grow?
Continuous growth and development are an expectation for every employee. The Bank offers a variety of opportunities to learn new skills, expand expertise, and share knowledge – there's something here for everyone!
How do you help your employees get involved in the community (i.e. volunteer program, service days, etc.)?
At the Cleveland Fed, getting involved and making a difference in our communities is a longstanding part of our history–and our plans for the future. Our volunteer program provides an opportunity for our employees to be an ambassador for the Bank. Employees can use VTO hours to volunteer for Bank-sanctioned community activities.
Health Insurance

Dental Insurance

Vision Insurance

Flexible Schedule

Paid Family Leave

Corporate Discounts

Office Closed for Holidays

Mother's Room

Remote Work Options
Retirement Plan

Health & Wellness Stipend

Educational Assistance

Bonuses/Raises

Sponsorship & Mentoring

Paid Time Off

Employee Resource Groups.

Diversity & Inclusion Resources and/or Training