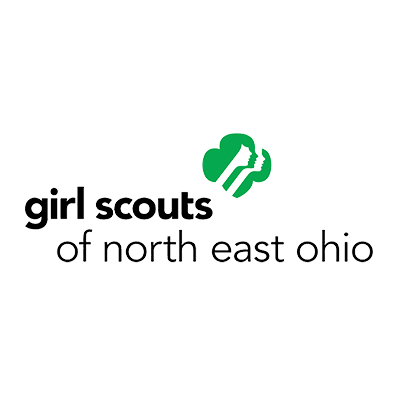 gsneo.org
1 Girl Scout Way
Macedonia, OH 44056
Lisa Maida
MBA, SHRM-SCP
Human Resources Manager
330.983.0398
LMaida@gsneo.org
Company Type: Nonprofit
Number of Employees: 113
% of Young Professional Employees: 51%
How would you describe your culture?
At GSNEO we strive to have a culture that is inclusive, nurturing, motivating, and fun. With goals set to develop our female leaders, serving as many girls in our footprint as we can, and serve them well, we work in cohesive teams and foster a service culture of continuous learning and progression. We also have some fun while doing it!
How would you describe your mission and what you do?
Girl Scouting builds girls of courage, confidence, and character, who make the world a better place.
In what ways do you utilize community volunteers?
GSNEO works with community volunteers in several capacities. Short-term opportunities include the Badge Boss program (becoming a specialist in Badge content and directly offering a program to girls), outdoor facilitators (zip line, ropes course, etc.), and episodic volunteer opportunities tailored to the group. Long-term opportunities such as Troop Leaders are integral to the organization's success and comprehensive training and support are available to those interested.
What type of opportunities do you have available?
Volunteers, Board of Directors
What types of positions do you typically hire young professionals for?
Any position for which they're qualified, with many opportunities available as Community Membership Specialists, Program Facilitators (for General and STEM programming), Customer Service Positions, and positions working at our camps.
What qualities do you look for in a candidate?
Mission-driven, inclusive, persistent, resourceful, intelligent, kind.
Do you have an internship program?
We offer internships or work-study opportunities in Marketing, IT, HR, Fund Development, Volunteer Support, and Data Administration. Typically our internships are unpaid unless we can work with a college to provide work-study. We offer true hands-on learning opportunities with a hybrid of in-office and working remotely. We also offer summer camp employment opportunities for students.
Do you have any internal Young Professional groups?
What types of employee training/development do you offer to help Young Professionals make an impact and grow?
We have all employees attend Sandler Training, Salesforce Training, and Relationship Training in addition to other training and continuing education opportunities. We also offer a Tuition Assistance program for continuing education courses.
How do you help your employees get involved in the community (i.e. volunteer program, service days, etc.)?
We have a Badge Boss program which allows our staff an opportunity to work directly with troops in an area of their choice.
Describe some of the work your organization does and the programs or events you run?
In addition to offering fun, high-level programming to the 23,000+ girls in our 18-county footprint, GSNEO hosts adult-focused fundraising events each year to honor women in leadership (Women of Distinction) and, every other year, to promote Northeast Ohio chefs in a Girl Scout Cookie-inspired dessert competition (Dessert First).
Health insurance
Dental insurance
Vision insurance
Flexible schedule
Paid family leave
Office closed for holidays
Mother's room
Remote work options
Retirement Plan
Educational Assistance
Bonuses/Raises
Paid Time Off
Company Events
Diversity & Inclusion Resources and/or Training
Flexible Spending Accounts