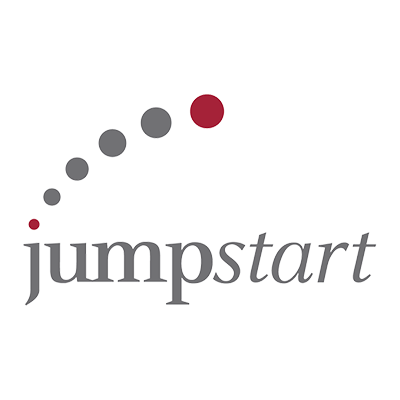 jumpstartinc.org
6701 Carnegie Avenue
Cleveland, Ohio 44103
Carli Calapa
Senior Recruiter Carli.Calapa@jumpstartinc.org
Kim Herold
HR Generalist
Kim.Herold@jumpstartinc.org
Company Type: Nonprofit
Number of Employees: 65
% of Young Professional Employees: 10%
How would you describe your culture?
Competitive, collaborative, fun, fast-paced.
How would you describe your mission and what you do?
JumpStart's mission is to unlock the full potential of entrepreneurship to transform entire communities. In collaboration with our partners, JumpStart aims to generate dramatically improved and inclusive economic outcomes by supporting diverse entrepreneurs, optimizing entrepreneurial ecosystems, and accelerating innovation.
What types of positions do you typically hire young professionals for?
Operations, Administration, Marketing, and Finance.
What qualities do you look for in a candidate?
Accountability, collaboration, equity, energy, humility, and a passion for entrepreneurism.
Do you have an internship program?
Yes, we have two internships programs. One program is to create internship opportunities throughout JumpStart's internal operations such as Accounting/Finance, Human Resources, Data & It, and Marketing. Our second internship program places students in internship opportunities throughout the city of Cleveland.
Do you have any internal Young Professional groups?
The Leader's Council is a group of young professional leaders throughout the city of Cleveland who come together to discuss essential issues that impact the city.
What types of employee training/development do you offer to help Young Professionals make an impact and grow?
We offer a development stipend, 1:1 training, and access to learning platforms such as LinkedIn Learning and the ERC.
How do you help your employees get involved in the community (i.e. volunteer program, service days, etc.)?
We make our team aware of volunteer opportunities throughout the community and provide them with CLE Days, which is paid time off to get involved and explore Cleveland.
Health Insurance

Dental Insurance

Vision Insurance

Flexible Schedule

Paid Family Leave

Office Closed for Holidays
Remote Work Options

Retirement Plan

Educational Assistance

Bonuses/Raises

Sponsorship & Mentoring

Diversity & Inclusion Resources and/or Training