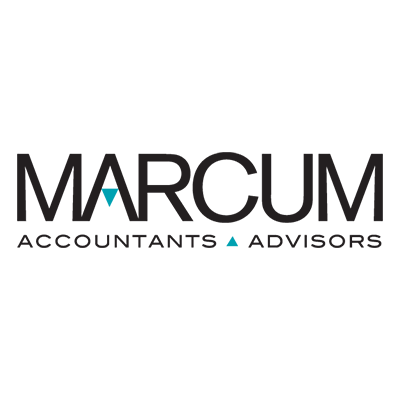 marcumllp.com
Fifth Third Center Building
600 Superior Avenue
Suite 800
Cleveland, OH 44114
Callan Ganim
CPA Supervisor
216-242-0818
callan.ganim@marcumllp.com
Company Type: Public
Number of Employees: 2,500
% of Young Professional Employees: 34%
How would you describe your culture?
At Marcum, we want you to reap the rewards of a culture rooted in nine core values aimed at cultivating personal success.
How would you describe your mission and what you do?
Marcum's advisors and accountants are dedicated to helping entrepreneurial, middle-market companies and high net worth individuals achieve their goals. As an organization of service professionals, our mission is to understand our clients' businesses, help identify their needs, and provide the services that will help them achieve their business and personal financial goals. We are committed to providing the most impactful, efficient and expeditious service, while always maintaining the highest ethical standards.
Health Insurance

Dental Insurance

Vision Insurance

Flexible Schedule

Paid Family Leave

Corporate Discounts

Office Closed for Holidays

Mother's Room
Remote Work Options

Retirement Plan

Bonuses/Raises

Paid Time Off

Fully Stocked Kitchen

Company Events

Employee Resource Groups

Diversity & Inclusion Resources and/or Training
What types of positions do you typically hire young professionals for?
Marcum LLP hires for a variety of services in business advisory but typically focuses on tax, accounting, and assurance positions.
What qualities do you look for in a candidate?
Marcum's ideal candidate has strong qualities in time management, teamwork, communication, technical ability, and ethics.
Do you have an internship program?
Interns who work for Marcum LLP gain valuable experience by applying knowledge acquired in the classroom to real-world applications. With comprehensive training and supervision, our interns gain a hybrid experience on a variety of audit AND tax engagements. Our firm offers full-time, paid internships during the spring (January – April) and summer (May-August) terms.
Do you have any internal Young Professional groups?
Marcum does have an internal Young Professional group. The goal of the program is to connect young professionals with leaders within Marcum and in our communities, enhance employee engagement, and cultivate open conversation and innovation that connects team members with social, civic, and professional development opportunities.
What types of employee training/development do you offer to help Young Professionals make an impact and grow?
Our internal university, Marcum U, offers a combination of both technical and soft-skills training that allows each professional the opportunity to be on a learning adventure that spans their career and challenges themselves to grow and explore at their own pace. In addition, we utilize the Birkman Strength Assessment to facilitate teambuilding and improve internal communications.
How do you help your employees get involved in the community (i.e. volunteer program, service days, etc.)?
The mission of the Marcum Foundation is to support non-profit organizations providing assistance to those in need, through programs and services delivered at the community level. By linking the philanthropic activities of Marcum's local offices under a unified umbrella, we are able to pool resources, share successes, exchange ideas, and grow our impact. Our charitable initiatives include:
– Charitable initiatives
– Firm-Wide Day of Service
– Employee Planned Giving Program
– Monthly Philanthropy Fridays
– Local fundraising and charity events in all Marcum offices