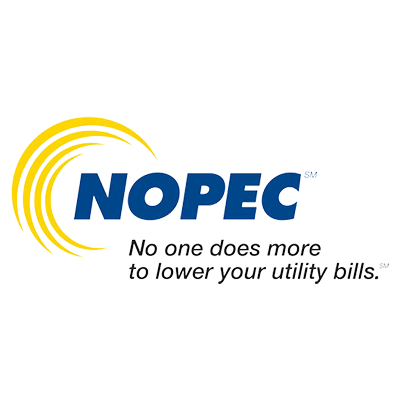 nopec.org
31360 Solon Rd.
Suite #33
Solon, OH 44139
Caitlin Albright
calbright@nopec.org
Company Type:
Government
Number of Employees: 19
% of Young Professional Employees: 37%
How would you describe your culture?
NOPEC's culture embraces teamwork, integrity, and service. To achieve this, we educate, aggregate, and advocate on behalf of NOPEC member communities to maximize our value proposition and help our members grow.
How would you describe your mission and what you do?
NOPEC (Northeast Ohio Public Energy Council) is Ohio's largest retail governmental aggregator of electricity and natural gas. As a non-profit energy aggregation serving more than 240 member communities throughout 20 counties, we use bulk-buying techniques to bring savings, best-in-class terms and conditions, public advocacy and energy-efficiency programming to small business and residential customers throughout Ohio.
Health Insurance

Dental Insurance

Vision Insurance

Flexible Schedule

Paid Family Leave

Office Closed for Holidays

Mother's Room

Remote Work Options
Retirement Plan

Educational Assistance

Bonuses/Raises

Paid Time Off

Company Events

Diversity & Inclusion Resources and/or training

Healthcare FSA Account
What types of positions do you typically hire young professionals for?
NOPEC employs professionals in a variety of fields including marketing, community outreach, information technology, relationship management, accounting, economic development and grants.
What qualities do you look for in a candidate?
NOPEC values candidates that exhibit the following traits: confident leader and thinker, humble and flexible, driven team player, smart and intelligent, and integrity.
Do you have an internship program?
NOPEC hires interns each year to assist our marketing department. The internship gives students a unique opportunity to gain hands-on experience in content creation, event sponsorship, community outreach, public relations, social media, and more. Depending on the company's needs, NOPEC may offer additional summer internships in areas like accounting and business.
Do you have any internal Young Professionals groups (employee resource group, etc.)?
No. Instead, NOPEC strongly encourages young professional employees to attend events and participate in programs offered by Engage! Cleveland.
What types of employee training/development do you offer to help Young Professionals make an impact and grow?
NOPEC encourages employees to attend professional development training to improve job performance and learn new skills. Also, to entice employees to pursue higher education and qualify for promotions, NOPEC offers an educational assistance program to those interested in obtaining a degree.
How do you help your employees get involved in the community (i.e. volunteer program, service days, etc.)?
NOPEC continuously looks for ways to give back to member communities. Each year, NOPEC staff participate in a team-building event centered around serving others. Staff members are also offered occasional opportunities to volunteer at member community events.