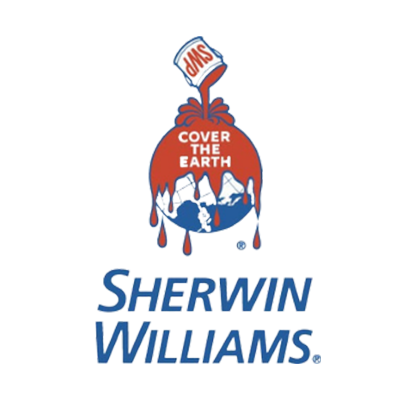 101 West Prospect Avenue
Cleveland, OH 44115
Company Type: Public

Number of Employees: 66,000
How would you describe your culture?
Our culture is one that's built for everyone. We want our employees to focus on their growth and pursue their passions. With benefits to support life in and outside of work, we support our employees and set them up for success.
How would you describe your mission and what you do?
Founded in 1866, Sherwin-Williams is a global leader in the manufacture, development, distribution, and sale of paints, coatings, and related products to professional, industrial, commercial, and retail customers. The company manufactures products under well-known brands such as Sherwin-Williams®, Valspar®, Dutch Boy®, Krylon®, Minwax®, Cabot® and many more. Sherwin-Williams branded products are sold exclusively through a chain of more than 4,100 company-operated stores and facilities, while the company's other brands are sold through leading mass merchandisers, home centers, independent paint dealers, hardware stores, automotive retailers, and industrial distributors. The company supplies highly-engineered industrial and OEM coatings for wood and general industrial, coil, packaging, protective and marine, and transportation applications worldwide. With a variety of rewarding and challenging opportunities, Sherwin-Williams is a great place to find a career that takes you places.
Health Insurance

Dental Insurance

Vision Insurance

Paid Family Leave

Office Closed for Holidays

Employee Stock Programs

Corporate Discounts

Mother's Room
Retirement Plan

Bonuses/Raises

Sponsorship & Mentoring

Paid Time Off

Company Events

Employee Resource Groups

Diversity & Inclusion Resources and/or Training
What types of positions do you typically hire young professionals for?
Internships in HR, Finance, Operations, Marketing & Sales. We also have programs for recent graduates centered around Management & Sales, Research & Development, Manufacturing, IT, and Finance.
Do you have an internship program?
We have various Co-Op and Internship programs within IT, R&D, Marketing, HR, Finance, Sales, and more.
Do you have any internal Young Professional groups?
Sherwin-Williams Future Leaders is a network of nearly 700 young professionals. The group's mission is to drive business results by providing developmental opportunities, supporting communities where we live and work, and fostering meaningful connections among employees. Members receive access to personal and professional development, and inclusive opportunities for employees to connect with one another, the Company, and the community.
What types of employee training/development do you offer to help Young Professionals make an impact and grow?
We offer a variety of training and development geared toward new hires, in addition to continuing education and development throughout your career with us.
How do you help your employees get involved in the community (i.e. volunteer program, service days, etc.)?
Sherwin-Williams employees have opportunities all year long to support the communities where they live and work. We host a monthly S-W volunteer night at the Greater Cleveland Food Bank, and our employee engagement groups present dozens of ways to give back each year, including participation in RiverSweep and an annual volunteer day at the Cleveland Kids Book Bank. Interested young professionals can also be placed on junior boards with the assistance of our Community Engagement team.