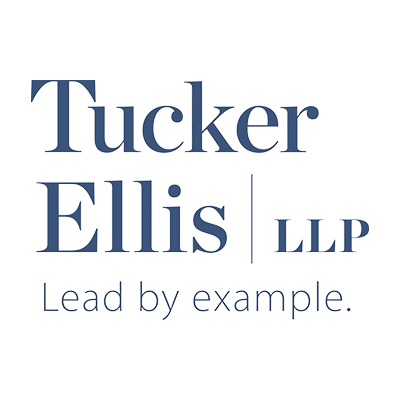 tuckerellis.com
950 Main Avenue
Suite 1100
Cleveland, Ohio 44113
Denae Wunderle
Denae.Wunderle@TuckerEllis.com
Company Type: Private
Number of Employees: 411 
% of Young Professional Employees: 37%
How would you describe your culture?
Collaborative, diverse, loyal, service-oriented, team-spirited.
How would you describe your mission and what you do?
Tucker Ellis is a full-service law firm with a special culture of excellence and service. We strive to provide a different and better experience for our clients, rewarding careers for our employees, and service to our communities.
Health Insurance

Dental Insurance

Vision Insurance

Flexible Schedule

Paid Family Leave

Corporate Discounts

Office Closed for Holidays

Mother's Room

Remote Work Option

Retirement Plan

Educational Assistance

Bonuses/Raises

Sponsorship & Mentoring

Paid Time Off

Company Events

Employee Resource Groups

Diversity & Inclusion Resources and/or Training

HSAs (Health Savings Accounts); Term Life Insurance

Spouse and Child Term Life Insurance
Accidental Death & Dismemberment Insurance

Medical and Dependent Care Spending Accounts

Pre-Tax Transportation Spending Accounts

Long Term Disability Insurance

Short Term Disability Insurance Benefits

Student Loan Refinancing Program

Voluntary Pet Insurance

Voluntary Cancer Guardian Insurance

Voluntary Identify Theft Insurance

Voluntary Critical Illness Insurance

Travel and Accident Insurance

Employee Assistance Plan (behavioral health counseling

In-house health and wellness seminars and events

In-house health screenings

In-house flu shots and additional screenings at a cost determined by the organization offering the screenings
What types of positions do you typically hire young professionals for?
Associate and lateral attorneys, law clerks, interns, summer associates, various administrative roles.
What qualities do you look for in a candidate?
Academic success, hardworking, goal-driven, team-oriented, passionate about the work and firm, flexible, willing to ask questions.
Do you have an internship program?
Our Summer Associate Mentorship Program provides law students with the opportunity to work closely with an experienced attorney for the summer to give them a true sense of the practice of law on a day-to-day basis.
Do you have any internal Young Professional groups?
Our Junior Attorney Corps (JAC) is an innovative program designed to give our first- and second-year associates and lateral junior attorneys a more broad-based initial 16 months of law firm experience. Through the JAC program, our newest attorneys work with various practice groups and gain experience in a variety of legal areas.
What types of employee training/development do you offer to help Young Professionals make an impact and grow?
Our Associate Career Development Program provides our associate attorneys with the opportunity to acquire the substantive legal and non-legal skills that are fundamental to lawyer excellence.
How do you help your employees get involved in the community (i.e. volunteer program, service days, etc.)?
Every year on July 16 – the anniversary of our firm's founding – we close our offices to observe "Tucker Ellis Day," during which our partners, counsel, associates, and staff choose how to spend the day helping those in need. We also have an active pro bono practice that includes both trial and transactional work, with a local presence in each of our six offices throughout the United States. Additionally, we encourage all of our attorneys' involvement in professional and civic organizations, local bar associations, and industry groups like the Defense Research Institute.