Top 5 Places To Enjoy The Cherry Blossoms In Cleveland
Washington D.C. isn't the only place to see some beautiful Cherry Blossoms – we can see them right in our backyard! Their bright pink and white blooms are the perfect reminder that spring is upon us and we are that much closer to summer in the CLE. We are in the peak timing for Cherry Blossoms RIGHT NOW. Typically Cherry Blossoms bloom as early as late March and can last through the end of April, but every year is different. Here are our top five places to see Cherry Blossoms this spring in Cleveland! 
1.Wade Lagoon & The Cleveland Museum of Art
When thinking of Cherry Blossoms in Cleveland, it's hard not to think of Wade Lagoon. Lined with pink and white Cherry Blossoms as well as pink and white Magnolia trees, this picturesque pool is the perfect way to either start or end your visit to the museum and University Circle. Stay up-to-date with their bloom tracker here. 
2.Brookside Reservation in the Cleveland Metroparks
This 132-acre sanctuary sits right in one of the only parks that sits in Cleveland proper. First established in 1894, Brookside Reservation is one of the oldest parks in Cleveland, but it has only been a cherry blossom destination for about 30 years, thanks to a donation by the Japanese Association of Northeast Ohio (JANO). Nicknamed "Cherry Blossom Lane," John Nagy Boulevard is the place to see some of the most vibrant blooms while also enjoying the perfect spring weather on one of their many paved walking paths in the park. 
3.West 25th Street & The Flats West Bank 
Next time you're visiting the West Side Market, make sure to walk the streets of West 25th to see these beautiful white blooms.Stretching all the way down through the Flats west bank, you are able to enjoy these trees during your lunchtime walk or while stopping for ice cream at Mitchells. Enchanting the atmosphere around this neighborhood, this might be your spot for a lesser known spot to see some Cherry Blossoms this spring. 
4.Towpath Trail In Akron 
If you are willing to take a little drive down south, the towpath in Akron may be the spot to see the most Cherry Blossoms this spring. With over 400 trees adorning either side of this towpath trail, you will not be disappointed by making the trip out. These trees are relatively new to Ohio, only being planted in 2011-12 in a partnership between the City of Akron and the Japanese Association of Northeast Ohio. The trail can be accessed through multiple entrance points that can be found here. 
5.Severance Hall & University Circle 
Our final spot to see some great Cherry Blossoms is Severance Hall! Located in the heart of University Circle, Severance Hall is a beautiful spot to take in the ambiance of the springtime blooms and also the exquisite architecture of the building itself. Walking around this area you will be able to spot many blooms of Cherry Blossom and Magnolia trees this spring. 
Don't wait to see these blooms, as they typically only have a 10-day window before the flowers start to fall. We wish you luck!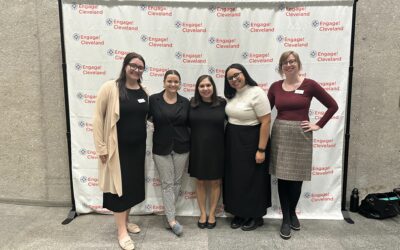 Coming to Fruition: Engage! Cleveland Staff Celebrates Inaugural DE&I Conference Written by...
read more