Top Free Activities Around Cleveland
Cleveland Museum of Art (University Circle) – Explore one of the finest art collections in the country, featuring works from various periods and cultures, completely free of charge.
Rock and Roll Hall of Fame (Downtown) – While there is an admission fee for the museum, the outdoor plaza and the stunning views of Lake Erie are free to enjoy.
Cleveland Metroparks – Experience the beauty of nature with over 23,000 acres of parks, nature reserves, and hiking trails throughout the Greater Cleveland area.
Edgewater Park (Cleveland) – Relax on the sandy beach, enjoy stunning Lake Erie views, and take a leisurely stroll along the waterfront.
Lake View Cemetery (Cleveland) – Visit the final resting place of notable figures such as President James A. Garfield and John D. Rockefeller, amidst beautiful scenery and historical monuments.
 West Side Market (Ohio City) – Explore the bustling market filled with fresh produce, meats, cheeses, and local culinary delights. While you may need to purchase food, admission is free.
Cleveland Cultural Gardens (University Circle) – Take a leisurely walk through these beautiful gardens, each representing a different nationality, and learn about the diverse cultures that have shaped Cleveland.
Wade Oval Wednesdays (University Circle) – Enjoy free live music, food trucks, and activities during this weekly summer concert series held at Wade Oval Park.
Cuyahoga Valley National Park – Just a short drive from Cleveland, this stunning national park offers a wide range of free outdoor activities, including hiking, biking, and bird-watching.
Cleveland Public Library (Downtown) – Immerse yourself in the world of books and knowledge at this iconic library, where you can browse the extensive collection or attend free events and exhibitions.
Holden Arboretum (Kirtland) – Explore this expansive outdoor space, home to breathtaking gardens, scenic hiking trails, and beautiful displays of flora and fauna. Admission is free on Tuesdays.
Cleveland Botanical Garden (University Circle) – Visit on Wednesdays to enjoy free admission and explore the stunning gardens, including the Glasshouse, which features exotic plants and wildlife.
Ohio & Erie Canal Towpath Trail – Embark on a scenic walk or bike ride along this historic trail, which follows the route of the Ohio & Erie Canal and offers picturesque views of nature and the cityscape.
Cleveland Cultural Festival (Various Locations) – Throughout the summer, numerous festivals celebrate the city's diverse cultures, offering free admission, live music, performances, and delicious ethnic cuisine.
Public Square (Downtown) – Relax in this centrally located park, where you can enjoy seasonal events, people-watch, or simply take in the vibrant atmosphere of downtown Cleveland.
These free activities provide a wide range of experiences, from art and culture to nature and outdoor adventures. Enjoy exploring the many attractions that Cleveland and its surrounding cities have to offer, without breaking the bank.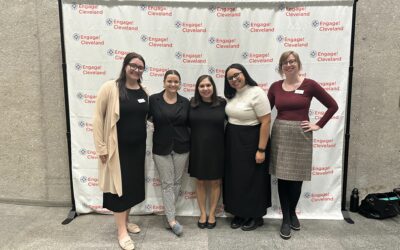 Coming to Fruition: Engage! Cleveland Staff Celebrates Inaugural DE&I Conference Written by...
read more