Employer Member Spotlight: Rock & Roll Hall of Fame 
Engage! Cleveland is proud to have over 115 employer members who support our cause of making Cleveland a lasting home for the next generation. Please join us in welcoming one of our newest members by reading about them below.
Born from the collision of rhythm & blues, country, and gospel, rock & roll is a spirit that is inclusive and ever-changing. The Rock & Roll Hall of Fame celebrates the sound of youth culture and honors the artists whose music connects us all. 
In 1985, when the Rock & Roll Hall of Fame Foundation was deciding where to open its physical museum, Cleveland threw its hat into the ring for consideration. Thanks to a groundswell of public support and a $65 million commitment from city officials, the Foundation chose Cleveland as the winning site, over locales such as New York, San Francisco, Memphis and Chicago. Needless to say, the Rock Hall's construction was cooler than most. On June 7, 1993, the Who's Pete Townshend, Chuck Berry, Billy Joel, Sam Phillips, and Ruth Brown (to name a few) attended the Cleveland groundbreaking ceremony, while Jerry Lee Lewis performed a year later when the building was finished off with the placement of one last steel beam.
The Rock & Roll Hall of Fame threw open its doors on September 2, 1995, and celebrated with a blockbuster benefit concert at nearby Cleveland Municipal Stadium. This marathon show featured once-in-a-lifetime pairings and performances by greats such as James Brown, Bob Dylan, Jerry Lee Lewis, Aretha Franklin, Johnny Cash and Booker T. and the M.G.s. Besides the Municipal Stadium concert, the Rock Hall's festive opening weekend featured a downtown Cleveland parade and a ribbon-cutting ceremony attended by Little Richard and Yoko Ono.
The Rock & Roll Hall of Fame website was generously funded by a grant from the Rock and Roll Hall of Fame Foundation.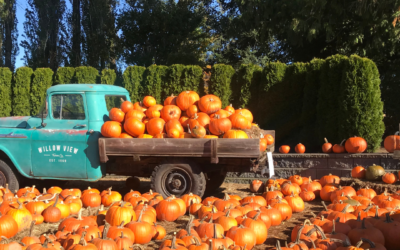 Top 5 Best Places for Apple and Pumpkin Picking Around ClevelandWritten by Marketing &...
read more